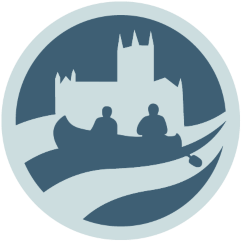 Book now: 01432 264 807

Hereford to Holme Lacy Bridge
A busy stretch of water following the river south out of Hereford.
Hereford
Hereford is an historic city lying in the heart of the Wye Valley in the west of England. Hereford also has a magnificent cathedral which houses the Mappa Mundi, a medieval map of the world dating from the 13th century. The renowned Chained Library, containing over 1,400 volumes is another local treasure.
Today Hereford is a busy market town, the city is a pleasant blend of old and new with modern shopping blending harmoniously with historic buildings.
Holme Lacy Bridge
Just past Holme Lacy bridge on the left river bank is a good landing area (£1 per person) at Lucksal camp site, there are excellent facilities here for tents and caravans. The local pub is a short distance however taxis are recommended as the road is often busy!
NB – rowing crews may be racing or training on this section.
Canoeing and kayaking between Hereford and Holme Lacy Bridge
Distance: 9 miles
Time: 3-4 hours in a canoe or kayak
Facilities in these locations
Hereford to Holme Lacy Bridge
Hoarwithy to Ross-on-Wye
Ross-on-Wye to Welsh Bicknor
Welsh Bicknor to Huntsmans Bridge
Monmouth to Chepstow
© 2020 Left Bank Canoe Hire
Leftbank Canoe Hire is a trading name of The Ultimate Consortium Ltd